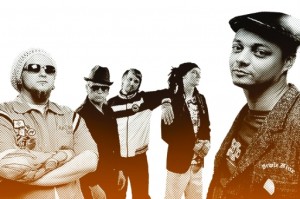 Contact:
Sami Peura
+358 (0)40 590 0290
sami.peura(at)samagency.fi
The Finnish rave stylers of rock beat stormed the charts across the world with their smash hit single, "Freestyler" – at 2.2 million, the biggest selling European single of the year 2000. "Freestyler" proved irresistible all over the globe, slamming itself to #1 on the charts of 12 countries – from NZ to Norway, from Oz to Austria. Even cool Britannia bombed to the funk as the lads reached #2 on the UK Chart with one of the Top 10 best sellers of the year.
Formed in 1997 by rapper Raymond Ebanks aka B.O.W. (Brother of Words) and vinyl spinner DJ GISMO (Ismo Lappalainen), Bomfunk MC's trawled the cultural waters of cool minimalism to produce – with Finnish dance genius producer/writer Jaakko Salovaara aka JS16 – a seemingly perfect blend of old school flava and wild pop tunes. This wasn't quaint laid back rock guitars and stolen chemical beats but a smeltdown of showbiz emotions that bitched and scratched a path through mainstream hip-pop. Debut album "In Stereo" was released in 1999 and it sold over 800,000 units in Europe alone, after catching the frenzy of madhouse beats and great pop sensibilities.
Live Bomfunk MC's are complete when joined by drummer Ari Toikka and the blond-afro himself, Ville Mäkinen. Later DJ Gismo decided to leave the band and was replaced by Riku Pentti (aka DJ Infekto) and Okke Komulainen (keyboards).
Bomfunk MC's became Finland's new ambassadors, selling platinum plus and stealing a whole host of awards across several continents. VIVA Germany, TMF Holland, M6 France and in 2000 in Stockholm the Bomfunk MC's represented the Nordic world at the MTV Europe Awards, winning nominations in two categories including 'Best New Act' & 'Best Nordic Act'. At the end of 2001 the band unveiled the first single from their 2nd album "Burnin' Sneakers", titled "Super Electric". The single immediately hit #1 on the Finnish singles chart and stayed there for five consecutive weeks. The album "Burnin' Sneakers" became instantly a #1 album in Finland during March, April and May 2002.
Their third album "Reverse Psychology" was released in 2004.
Listen "Freestyler":
"Freestyler":