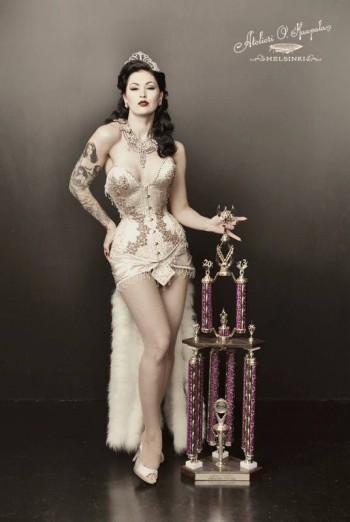 Keikkamyyjä:
Sami Peura
+358 (0)40 5900 290
sami.peura(at)samagency.fi
Suomen menestynein kansainvälistä tunnustustakin saanut ammattiburleskitaiteilija on esiintynyt vuodesta 2008 lähtien.
Hän on tunnettu loisteliaista asuista, säteilevästä lavakarismasta ja eloisasta bump'n'grind tanssityylistä.
LouLou D'vil on äänestetty 16. parhaaksi burleskitaiteilijaksi koko maailmassa. 2012 Best Debut voitto maailman suurimmassa burleskitapahtumassa (Burlesque Hall of Fame) vuonna 2011 ja toinen sija "Queen of Burlesque" -kilpailussa New Orleansissa.
Hän on esiintynyt mm. seuraavissa kaupungeissa: Las Vegas, New York, Los Angeles, New Orleans, Dallas, Melbourne, Sydney, Lontoo, Pariisi, Brysseli, Milano, Venetsia, Zurich, Wien, Amsterdam,Tallinna, Tukholma, Istanbul, Barcelona & Madrid sekä ympäri Suomea.
LouLou D'vil kruunattiin burleskikuningattareksi alan arvostetuimmassa kisassa Las Vegasissa Yhdysvalloissa 1.6.2013. Hän sai Burlesque Hall of Fame -viikonlopputapahtumassa tittelin Miss Exotic World/ Reigning Queen of Burlesque.
Untamed glamour from the arctic
She was born in to a country of thousand lakes and spellbinding emerald forests. Her exotic beauty, blazing eyes and passionate charisma has made her to become one of the brightest performance artists in Europe. Notorious for her fierce reincarnation of seductive vintage glamour, and bump'n'grind burlesque, she tantalizes audiences all over the world from Milan to Las Vegas, always delivering the finest for them. With her statuesque 37-22-37 figure she excites her audience in to booming howling and vibrant stomp.
This versatile artist is best known for her luxurious, voluptuous and creative acts inspired by ravishing showgirls of 30's-50's, innovative fashion, fantasy and surrealist fairytales. She mixes skillfully classic striptease with breath taking stories, dash of magic and a lot of professionalism. LouLou D'vil is always sensual, provocative and even fatal, but never plain.
"Sex on legs!" – Neil Kendall, producer and photographer
"Keep an eye on this up and coming star of Burlesque. LouLou D'vil is real stunner!" – Miss Astrid, compere and creator of the legendary Va Va Voom Room
"Great woman, fantastic dancer, always smiling and very professional! I would love to organize again spectacles with her… My dream is to do that on MotoGP paddock in front of all the MotoGP fans!" – Lucio Cecchinello, CEO of LCR Honda MotoGP
"An authentic tigress who lit the passion of the audience." – Xavi Calzada, photographer, about show in Taboo Barcelona
ACHIEVEMENTS Winner of Best Debut 2011 / Burlesque Hall of Fame weekend, Las Vegas. 1st runner up in Queen of Burlesque 2011 competition / New Orleans Burlesque Festival. Reigning Queen of Burlesque 2013 Miss Exotic World / Burlesque Hall of Fame.
PIN-UP featured pin-up model example for Pin-up America, Milcow, The Rebel Pin-up Page
MODEL for House of Lolita, hiroNIA, Nitrobabe, Artevo, Burlesque Assassins Film
MAGAZINES such as Pin-up America, Rockstar Magazine (Switzerland), Special magazine (Italy), Cultural Capitol, L.A. Times, Las Vegas News, Postimees (Eesti), Aamulehti, City, Valo, Me Naiset, Divaani, Helsinki Ink Magazine, Sue, Pinni, Ilta-Sanomat, Iltalehti, Big Beat, Regina, avec and many more.
TOUR PROJECTIONS for an exclusive lingerie brand Christies (Italy)
MUSIC VIDEOS for Lauri "In The City" and Vulture Club.
TELEVISION Corriere Tv, Project Runway Finland, Ajankohtainen kakkonen document