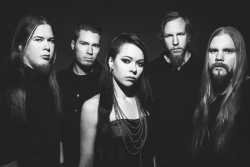 Website: www.crimsonsun.net / Facebook
Technical Riders: Crimson Sun – Riders – 2015
Contact:
Marko Seppi
+358 (0)40 487 4644
if.ycnegamas(ta)ippes.okram
Crimson Sun comes from Southern Finland, Kotka, and serves you modern heavy metal with a twist of catchy melodies. The Border EP released in spring 2013 got great reviews and the title of "Demo of the month" in the Inferno magazine and Imperiumi.net. In the year 2014 Crimson Sun prepared their debut album which was released in 2015. Album goes by the name Towards the Light, and received positive reviews in media.
Towards the Light was recorded by Saku Moilanen from Deep Noise Studios and mastered by Jacob Hansen who has described the album as follows:
"I really enjoyed the songs and the band. To me, this, with some tweaks, could easily become "the next big thing"! The song structures and overall sound has a catchiness, as well as being heavy. Finetuning this combination could mean big business!"
With the fresh new songs and kick-ass attitude Crimson Sun is ready to rock the stages and blow the minds of the metal audience all around the world!
Listen Towards the Light:
Check out The Storm- video:

Members:
Sini Seppälä – Vocals
Miikka Hujanen – Keyboards
Antti Rantavuo – Drums
Jukka Jauhiainen – Bass
Joni Junnila – Guitar