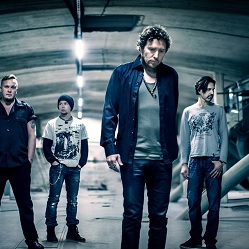 Website: Facebook
Contacts:
Sami Peura
+358 (0)40 590 0290
sami.peura(at)samagency.fi
Marko Seppi
+358 (0)40 487 4644
if.ycnegamas(ta)ippes.okram
Helsinki-based Loner Fin spices their rock with eastern sounds and spoken word -style. Loner Fin is a Finnish rock super group formed by members from bands such as Havana Black, Velcra, Don Huonot and Kyyria.
"Our greatest role models have broken limits in their genres. For us it is a natural way of making music" says the singer-guitarist Mikael Vehkaoja.
During the summer of 2013 the band recorded their debut album, produced by Hiili Hiilesmaa (HIM, Amorphis, Apocalyptica). The record was released on 7th of February 2014.
Listen to Loner Fin:
Check out New Thing- video:

Members:
Mikael Vehkaoja – Vocals, guitar
Timo Hänninen – Guitar, keyboards
Jukka Puurula – Bass, backing vocals
Atte Sarkima – Drums