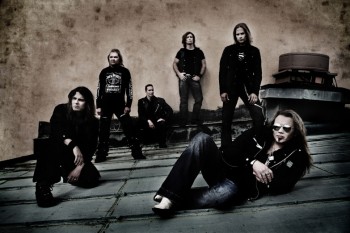 Contact:
Sami Peura
+358 (0)40 590 0290
sami.peura(at)samagency.fi
Leverage is a top notch heavy rock band hailing from Finland. The band was formed in 2005 by six seasoned musicians. They put their decades of love of heavy rock into writing music of their very own style, that earned them a record contract very fast. Their debut ´Tides´ (2006) was released in Finland (Playground Music), and Far East (Marquee Avalon), causing a stir among the friends of melodic heavy rock worldwide. In Finland the album climbed to the charts and got good airplay all before the band's first concert. The album got rave reviews internationally and for example topped the best of 2006 lists at www.melodicrock.com in many categories.
After touring Finland and writing more music, the band went back to the studio in 2007 to record their sophomore effort 'Blind Fire', signing with Frontiers Records at the same time. The album was released in Finland , the rest of Europe (Frontiers) and Far East in January 2008.
Here's what some had to say:
'Leverage is a band which combines in the best possible way melodic rock with heavy power metal' (behindtheveil)
'There is something on this CD that every metal fan will appreciate, whether they are a melodic metal fan, a power metal fan, a progressive metal fan or just a novice heavy metal fan' (melodicratings)
'On "Blind Fire", they've really come into their own, and created a solid album of killer melodies and all-around enjoyable songs that will satisfy anyone with even so much as a passing interest in Hard Rock or Heavy Metal.' (metalcrypt)
More reviews at http://www.leverageband.com/links.php
Listen "Wolf and the moon":
Check out Wolf and The Moon- video:

Members:
Torsti Spoof – Guitar
Tuomas Heikkinen – Guitar
Marko Niskala – Keyboards
Pekka Heino – Vocals
Valtteri Revonkorpi – Drums
Sami Norrbacka – Bass