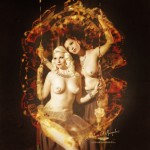 Website: www.holycurves.net / Facebook
Contact:
Sami Peura
+358 (0)40 590 0290
sami.peura(at)samagency.fi
Holy Curves! The gals with the most luscious inherited curves bring you the best burlesque in town!
Holy Curves! is a burlesque duo that is brought to you by two of the pioneers of finnish burlesque; Olivia Rouge and Cherrie A. Dorable. These ladies filled with outrageously severe attitude have been working their way up in the burlesque scene from 2008. The gals with the most luscious inherited curves in Finland will present you a variety of shows and looks from the cutest and most delicious cheesecakes in town to the seductive burlesque queens not forgetting the rocking sultry teasers!
They have performerd on the lines of the most succesful and renowned burlesque troupe in Finland, The Tease Queens and have been delighting audiences all over Finland as well as in Italy, USA, Sweden and England. Some greatest shows include; Burlesque Hall of Fame weekend in Las Vegas (2010), Monday Night Tease in Hollywood and Milan Burlesque Award. Cherrie and Olivia were also part of the first ever burlesque tour
in Finland; The Queens of Tease along with Kitten de Ville and Miss Anne Thropy.
In addition to the burlesque shows, Cherrie and Olivia are also the producers of the first of a kind Pin-Up Finland competition that is held annually in X-treme Car Show event.
If you are looking for that little something extra for your event that people will be talking about for weeks, do contact us! Holy Curves! are available for burlesque shows, gogo dancing with bands for music videos or live shows, teaching workshops from pin up poses to fierce tassel twirling and of course all kinds of modeling.
Members:
Olivia Rouge
Cherrie A. Dorable