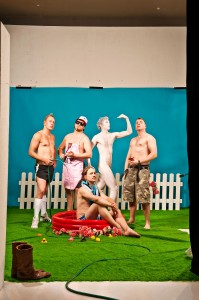 Contact:
Sami Peura
+358 (0)40 590 0290
sami.peura(at)samagency.fi
Collarbone, the band from Helsinki, Finland, cleverly utilize grand pianos, ice-hockeyish Hammond organs and eerie synths as an extra seasoning to their original, hard and deep alternative rock sound. The band released their newest album "Pretty Dirty" in April, 2010. The album is loaded with down-tuned riffing, banging drums and balanced songwriting. It's definitely rock music, catchy as hell, with alternative and pop music flavours.
The album carried Collarbone through an intensive one-and-a-half-year touring mayhem in their native country Finland and in the Baltic countries – and the beat goes on: In January 2012 CB, as friends like to call them, will embark on a four-date mini-tour in Estonia and in Latvia.
Collarbone was grounded in the year 2000. The band released their first ep "Devil in Miss Verril" back in 2004 and the first full-length album "The Back of Beyond" in 2007. For once, it is justified to say that the band has built its fan base with hard work and relentless touring.
Listen to "The Machine":
Members:
Thomas Kirjonen – Vocals
Janne Suominen – Guitar
Mikko Merilinna – Guitar
Matti Piipponen – Bass
Janne Sivunen – Drums