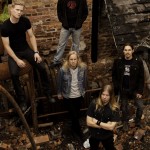 Website: http://constantineband.net/
Technical riders: constantine_stagemap_rider

Since 2006, the Finnish melodic heavy / prog metallers Constantine have been invading the ears and minds of everyone fortunate enough to cross paths with them. Forging their unique soundscape from the best elements of traditional heavy metal, power metal and progressive metal, the band is sure to catch the listener's attention by high and loud vocals, ass-kicking riffs and melodies that keep echoing in one's head.
After several demos, dozens of gigs and a few record deal offers, Constantine eventually signed to Palokka Records late 2010 and immediately begsn to focus on recording their debut album, which would become "Divine Design". Recorded at Studio Musica and SN-Audio by Aksu Hanttu and Sami Niittykoski respectively, the album is a powerful presentation of musical talent and songwriting ability from this young Jyväskylä based quintet.
Although the band excels on the album, one should see the band in its true element – on stage. Renowned for their energetic live shows and high standard of performing, the band leaves no one feeling lukewarm after a show. While most club-sized bands play shortened gigs in fear of boring the audience, Constantine goes on stage with full force and set list, swapping songs and surprising the audience every now and then by acoustic versions or interesting cover songs.
If you think new bands are boring in their chase of airplay or lust to please the audience, give "Divine Design" a few rounds in Spotify or wherever. We promise you nothing but to challenge you with our music and to take you on a journey from which you may never want to come back.
Constantine is:
Lassi Vääränen – Vocals
Janne Seppänen – Guitars
Janne Korpela – Guitars
Antti Varjanne – Bass
Marko Möttönen – Drums
Contact:
Rami Hirvelä
+358 (0)40 487 4644