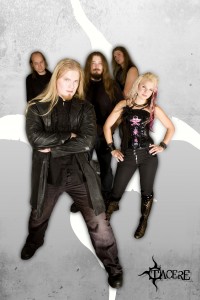 Website: www.facebook.com
Technical Riders: Tacere stageplan
Contact:
Sami Peura
+358 (0)40 590 0290
sami.peura(at)samagency.fi
Tacere originally started as the solo project of front man Karri Knuuttila in the early 2000s. A real band line-up and the name TACERE first appeared in 2002/2003, but the band was still lead by just male vocals. After hiring Helena Haaparanta as the female singer in 2004 Tacere got it´s first stable line-up. The band put out a plethora of demos until in 2005 they were picked up by a Finnish record label Suomen Musiikki Oy / SM-Records – a company ran by Kari Hynninen a well known music mogul who has discovered and worked with talents such as Apocalyptica and Amorphis in the metal scene, and several Finnish platinum artist on the pop scene.
The band released it´s first mini-CD "A Voice in the dark" in November 2006 reaching a top-10 chart position in Finland. Followed by nearly half a year of recording and a lot of other work the band then finally released their debut album "Beautiful Darkness" in Scandinavia March 2007. Later during the same year releases followed for example in Russia, the CIS-states, Japan and Thailand. The album was produced together by Karri Knuuttila and producer guru Anssi Kippo (Children of Bodom etc.) and it received a great response from both the fans and critics. In Japan the album got an especially good response and achieved remarkable sales to be a debut album of an unknown metal band. Later on the band parted ways with the record label "Suomen Musiikki" in early 2008. After this the band´s manager was also discharged and later in the spring the singer Helena Haaparanta quit the band. A show in the famous On The Rocks club in Helsinki 3th March 2008 remained as the last performance of the band with the debut album line-up.
A long and hard search process to find a new singer followed shortly. A huge amount of people applied for the singer position from all around the world, and it took almost half a year of reading and listening through applications, meeting people and seeing auditions, but Tacere finally found their new perfect singer, a beautiful Finnish girl called Taiya. She is an extremely talented singer, but also a highly experienced performer and the perfect person on the chemistry level for the band. After finding the new singer the band also hired a new keyboard player Veli-Matti Kananen (Poisonblack, Eternal Tears of Sorrow) and the band was finally complete.
After working on the follow-up to the 2007 debut Beautiful Darkness for over 2 years the new album was released in 2012. The band has a real dream line-up, fantastic new song material and more enthusiasm and energy than ever before.
Listen to Tacere:
Members:
Pekka – Bass
Karri – Vocals & Guitar
Jake – Drums
Taiya – Vocals