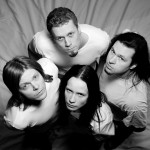 Contact:
Rami Hirvelä
+358 (0)40 487 4644
Out of the blue, far from North comes Murena! Their debut album which went straight to the Finnish official chart is one of the strongest albums in this year.
Murena was founded in the beginning of this millennium and a couple of years later the guitar player Joni joined the group. The idea has been crystal clear since the beginning: to do something brand new and unique. Many-sided vocals, aggressive and strong hold on the instruments and co-supportive musical attractions make this band perfect.
Spinefarm's sub-company Ranka Recordings published the debut album "Metonin Jakso" in the 22nd September.
Jarno Kangas:  vocals and guitar
Antti Honka:  drums and backing vocals
Marko Kangas:  bass and backing vocals
Joni Taskala:  guitar and backing vocals