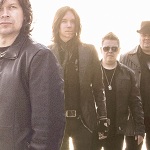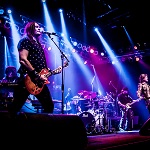 Website: www.freespiritrock.com / Facebook / Vimeo
Technical Rider: Free Spirit Tech Rider
Contact:
Sami Peura
+358 (0)40 590 0290
if.ycnegamas(ta)aruep.imas
Marko Seppi
+358 (0)40 487 4644
if.ycnegamas(ta)ippes.okram
Free Spirit plays timeless rock with a huge sound. Since the band's debut album 'Pale Sister of Light' was released in 2009 Free Spirit has gathered passionate fans around the world.
Free Spirit has been featured as the artist of the week, month or even year on different media all over the world. Songs from the album have been on rotation on many radio stations around the globe and reviews of the album have been nothing but ecstatic.
During spring 2010 'Pale Sister of Light' was featured on various critics' and/or readers' "Best of 2009″ lists in international media. In 2011 the album was released for the video game Rock Band 3.
In October 2013 Free Spirit released a single 'Living Tattoo' from upcoming album. The second single, 'Hysteria' was released on 17th of January 2014. The eagerly anticipated follow-up to 'Pale Sister of Light' was released February 28th 2014. The new album is called 'All the Shades of Darkened Light.'
Listen All the Shades of Darkened Light- Album:
Check out Hysteria- video:

Members:
Sami Alho – vocals
Vesa Yli-Mäenpää – Guitars & backing vocals
Marko Haapamäki – Guitars & backing vocals
Sami Hämäläinen – Bass
Pasi Koivumäki – Drums
Timo Alho – Keyboards