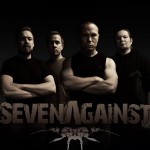 Websites: www.sevenagainstband.com/ / Soundcloud / Facebook / VK
Contact: Mikaela Tuomi
+358(0)9 321 5232
if.ycnegamas(ta)noitcudorp
Seven Against, founded in 2008 is a Finnish metal band based nearby Helsinki.
Besides their first demo the band has released two EPs the latest of which was praised among critics. This record called "III" was released in December 2012. Seven Against was chosen as the best band at Emergenza 2012 in Nosturi's finals. The live performances have always received in their intensity a massive amount of praise.
In the year 2013 the band swapped their bass player from Janne Gustafsson to JP Immonen (previously e.g. Pentatonik, Hammerhed). With this new line-up the band recorded and released a digital single "Stand the Flames" in November 2013.
Out of the first full-length album "Beneath the shell" two singles "Bleach" & "Brotherhood" were released.
"Beneath the shell" was released digitally on 06.11.2014
Listen to Beneath the Shell:

Check out Sick and Tired- video:

Members:
Toni Palmumaa – Vocals
Tuomo Henriksson – Guitar
Miko Saastamoinen – Drums
JP Immonen – Bass