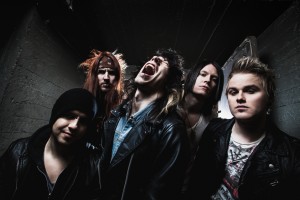 Website: www.kingsandkerosene.viinyl.com / www.facebook.com
Technical rider: Kings & Kerosene lavakartta
Contacts:
Sami Peura
+358 (0)40 590 0290
sami.peura(at)samagency.fi
Marko Seppi
+358 (0)40 487 4644
if.ycnegamas(ta)ippes.okram
Kings & Kerosene is a new and upcoming rock export hailing from Joensuu, Finland. Their music has been described as a mixture of big stadium rock and dirty punk rock – a creation of their twisted imaginations.
In 2012 Kings & Kerosene released a self-titled EP and a music video for the song "War Of The Roses". 1st of April 2013 they released the debut album "Liquid Soundtrack", featuring singles "Soul Alone" and "Problem Child".
Ladies and gentlemen, step closer and light the match. It smells like kerosene!
Listen to Problem Child:

Check out War Of The Roses- video:

Members:
Tuomas "Dewey" Sormunen – Vocals
Tommi Vatanen – Guitars
Jarkko "Jace" Penttinen – Drums
Juuso Puhakka – Bass
Tuomo Korander – Guitars